Chuck & Alice Harmon's pond
Click on any of these photos for a larger view if it's available.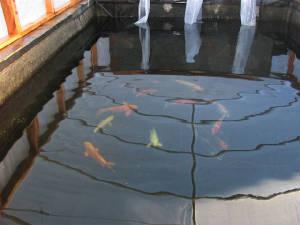 Chuck has been tracking the water temperature since 11/2006, when the tent was installed. It has fluctuated between 43 and 50 degrees. Over the recent cold snap from January 12 thru the 18th, the temp dropped from 49 to 43, but by the 20th, it was back up to 45 degrees. Chuck added a stock tank heater in the upper pond, but it's doubtful it's been much help; mostly the credit goes to the cover (a Dan Olson design). Last year, after similar conditions, there would have been thick ice on the surface, with all the attendant peripheral damage.

The Harmons hosted the February 2006 workshop - which included a tour of the koi pond!!! Members gave Chuck & Alice ideas from their previous experiences - and learned from Harmon's experiences. Nothing can beat sharing information, and that's what our club is all about.

Dan Olson provided us this photo of the pond cover frame that was designed for this koi pond.

Bracing and reinforcements will keep this structure upright and intact during the blustery winter months ahead.

Bruce Todd and Robert tweaked some of the edges for a nice clean fit.

With just a little dressing up to finish, the pond cover is completed.

The upper waterfall is covered with insulation to avoid wind chill. The rocks held everything down during the wind storms.

Robert Fischbach explained the plumbing involved in this koi pond to Dennis Rodkey and others attending this workshop.

Jim Walsh helps the team finish setting up the frame as Gene & Dan strategize how best to layout the plastic sheeting.

With the members providing the manpower at our November 2006 meeting, the frame was erected over the pond in just a couple of hours.

Everyone offered input and ideas - which makes the job better.

Robert and Dan working on finishing the end of the cover - there will be an opening at each end to allow access to check on the fish and to just enjoy them.

And a fine job it is. Great work by John Mason, John Miller, Robert Fischbach, Gene Anderson, John Trevethan, Bruce Todd and Dan Olson (Chuck took the photo and Jim Walsh was busy elsewhere and didn't get in this photo) .